This post is monetized with affiliate links. If you click and buy something I will probably make some money. 
I just returned from my first Type-A Parent Conference and was able to connect with a ton of awesome bloggers. Some of them are well seasoned in affiliate marketing, some have dabbled in it a bit, and some have never used an affiliate link in their life.
Along with Greg Hoffman and Karen Garcia I was able to speak about the basics of affiliate marketing as well as show off a few tools that make monetizing a blog post quick and easy. We had some great questions from the audience and as we talked to bloggers at our booths we were all very excited about the potential of this group.
If you were an attendee I know many of you are all set and know how to monetize your blogs with affiliate links but if you are just getting started here are 6 things you should do right now to get started. There is nothing magical here, nothing that is hard, and nothing you can't do.
1. Sign up for Shareasale – The first thing you will need to do is sign up for the Shareasale affiliate network. Shareasale.com has over 4000 different merchants you an work with. They handle all the tracking, have a ton of tools to help you get your affiliate links, and handle your payouts. The signup process is very simple and shouldn't take more than a few minutes.There are other affiliate networks and platforms out there but Shareasale is the best place to start.
2. Find some old blog posts generating traffic – Take a look through your analytics an find 5 blog posts that are generating a decent amount of traffic. "Decent" is very subjective and will vary from blog to blog but pick some posts that are still relevant, still get traffic, or have been popular on your social channels. Maybe it is a holiday gift guide you wrote 2 years ago, maybe it is a product review, maybe it is just a story about your family vacation. It can be about most anything.
3. Search through Shareasale for merchants relevant to those posts – Once you are signed up for Shareasale you need to find the merchants you want to work with. Like I mentioned earlier there are over 4000 merchants to choose from. Some are big brand name merchants, some are small mom and pop stores. Some of them are being run by experienced, quality affiliate managers, some have no management at all.Once you are in your Shareasale interface you will want to click on the Merchant tab and then select Search for Merchants. Just enter a keyword in the search box and you will see all the merchants relevant for that keyword. Here is a screenshot of a search for "wine". As you can see there are over 600 merchants to choose from for that search: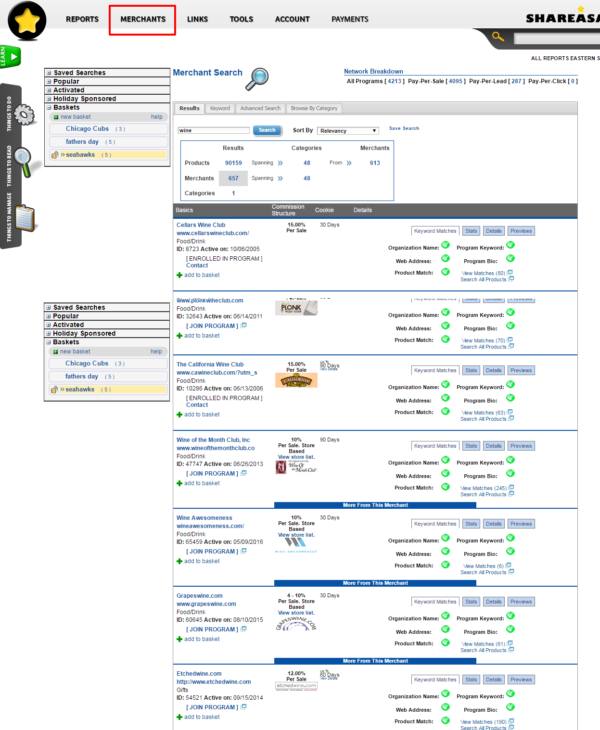 There are bound to be a number of great merchants you can work with. If you need any specific recommendations please don't hesitate to drop me an email and let me know what you are looking for and I can point you in the right direction. Here are a few merchants I would suggest starting with:
There are thousands of other merchants available on Shareasale so there is sure to be some merchant that will fit with your audience. All of these except Panna were represented at Type-A and you may have already talked to either me, Karen, or Greg about some of these. Sign up for these 8 merchants and any others you think would be a good fit for your site. Again, if you need any suggestions drop me an email at joe at whatdoesjoethink.com and I will be happy to make some suggestions.
When you apply for these or any other merchants there is a place on the application where you can explain what you are doing. USE THIS!!! Let the affiliate manager know what site you want to promote them on, how you want to promote them, and anything else you think they should know.
4. Add some affiliate links in these posts – After you have been approved for your merchants it is time to add in some links. My favorite tool for this is the Shareasale Product Discovery Bookmarklet. With this tool you can get your affiliate links for any page on a merchant site in just a couple seconds. Get this tool today and it will change your life. Another great option is the Gallery View from the Make A Page tool . Find 5 or 6 products relevant to your post and just add this in at the end of your post. You can have a cool looking product display complete with your affiliate links up on your site within a couple minutes. For example, if I had my post about wine and I wanted to include some products from The California Wine Club I could pick some of their products and build a display that looks like this:
If you really want to get fancy you can combine the Product Discovery Bookmarklet, Baskets, and Make a Page tool. If you need help with any of these tools let me know and I would be happy to walk you through any of them.
Also, after you add your affiliate links in be sure to share them again on your social channels. Chances are the content will be new to whoever sees it and if it is still relevant they will appreciate it as much as any new content you might put out.
5. Join some affiliate groups on Facebook - Facebook groups are becoming one of the preferred methods for affiliate program managers to communicate with their affiliates. Newsletters are OK but with Facebook groups managers can quickly and easily let you know about upcoming promotions, new products, top sellers, tips and tricks, and that sort of thing. Here are a few I know of and I am sure there are more:
Apogee Affiliates - Group for affiliates of Apogee merchants run by Greg Hoffman.
Fanatics Affiliates - For all affiliates of Fanatics, FansEdge, NFLShop, NBAStore, Shop.NHL, MLBShop, and any of our other properties.
And for good measure a couple more general affiliate groups:
Affiliate Marketers in the Cold - Remnants of the old Abestweb forum
Affiliate Marketers and Online Publishers Group - Smaller group but some great people in there
6. Sign up for Affiliate Summit - Affiliate Summit is the biggest affiliate conference in the business. There will be over 6000 people attending in January in Las Vegas and the conference is run by Type-A Keynote speaker Missy Ward and her partner Shawn Collins. The show isn't all bloggers but there will be quite a few of them there along with merchants, service providers, affiliate networks, affiliate program managers, and other people associated with the affiliate industry. Passes can be had for $249 (sorry, you missed the Early Bird rates) but if you have the means I would suggest the VIP pass for $949 which gives you access to all the sessions, videos of the sessions, meals, drinks, and more. I have been to probably 20 Affiliate Summits and I have never regretted the investment. Affiliate Summit also holds out some free passes specifically for affiliates. You will need to submit your request by Nov. 11th to be considered so don't wait.
All in all getting started with affiliate marketing is very easy. Assuming a merchant gets you approved quickly you can monetize an old post in just a couple minutes. I would be happy to walk you through the process more thoroughly if you need it as well and give you some specific recommendations for your blogs. Just drop me an email at joe at whatdoesjoethink.com or jsousa at fanatics.com.