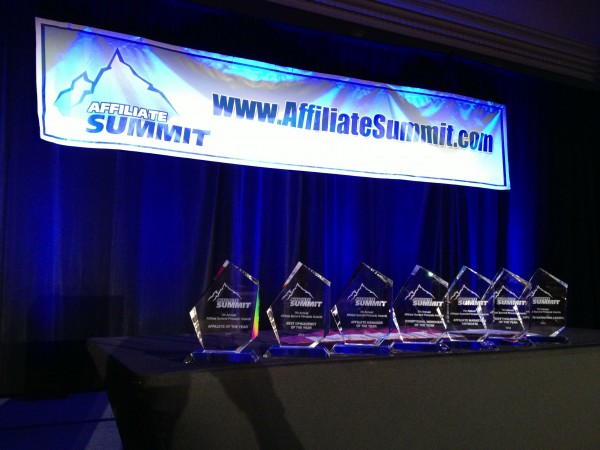 For the past few years I have Handicapped the Affiliate Summit Pinnacle Awards (2015, 2014, 2012, 2011, 2010). I am not going to look up my track record for my picks because I am too lazy but I know I have gotten a few right and missed a few. Off the top of my head I would put my percentage at around 65%.
Of course these picks are just meant for fun and aren't meant to hurt any feelings. Well, maybe a few feelings but those people have it coming to them!!!
There are 6 categories for the Pinnacle Awards and these awards are for the best of the best in the affiliate industry. Nearly all the nominees this year are deserving of a nomination but we can only have 6 winners so here we go:
Affiliate of the Year:
BradsDeals.com – BradsDeals.com scours their merchants and pulls out the best deals to feature. They have been very good to deal with on my end and I know they can generate some great revenue when given the right offer. A very worthy candidate and right now they would be my favorite. Odds: 2-1
Rae Hoffman – Rae has been around the industry forever and has an awesome blog Sugarrae.com where she shares her knowledge and experience she has accumulated over the years. Her Pinterest guide is the best I have seen on the topic and her newsletter always has some awesome information. Odds: 4-1
RetailMeNot.com – Few will argue that they are one of the biggest affiliates around. Biggest doesn't always mean the best and their value to their merchants might not be what it seems but if you are smart in how you work with them they can be a great asset to most merchants. Odds: 8-1
My Pick: My money will be on Rae Hoffman for this award. Few people in the industry can match her experience, knowledge, and passion for her business.
Affiliate Manager of the Year
Adam Riemer – Bottom line: Adam knows how to drive incremental revenue for his clients. His knowledge of other marketing disciplines beyond affiliate marketing are a great asset to his clients and his experience in knowing what will benefit a merchant and what will cannibalize other marketing channels helps merchants see a great ROI on their marketing costs. Odds: 5-1
Greg Hoffman – Greg Hoffman recently released a great book that every affiliate manager should read that covers his story in affiliate marketing and how he has developed his philosophy over the years. And he isn't nicknamed "The Gorilla" for nothing. If you are beneficial to his merchants he will bend over backwards for you but if you try to steal or scam or break the terms of service watch out. That is a great quality to look for if you are looking for an OPM. Odds: 2-1
Karen Garcia – Along with being an expert in affiliate management, Karen can probably bake a better pie and knit a better sweater than any of her competitors which definitely gives her an advantage. But don't think she is only about pie. She has been around the industry as long as anyone and is smarter than pretty much anyone else I know. Affiliate marketing isn't rocket science but if it was it still wouldn't be out of Karen's wheelhouse. Odds: 3-1
My Pick: I am going with Karen Garcia on this one. Well deserved and hopefully that pick will earn me a pie.
Merchant of the Year
Amazon – Well, if you want the biggest you will want Amazon here. But the best? Wouldn't get my vote. I have never heard from anyone who has had a great relationship with any affiliate manager there or really received any support. Of course you can make money with them and their conversion rates and selection probably blow any other merchant out of the water but I think I want more from a merchant than just numbers. Odds: 5-1
Fanatics.com – Now this is getting a bit awkward in that I work for Fanatics and run their affiliate program. But I know what we were able to accomplish this past year, I know the support we provided our affiliates, I know who are affiliates are, and I know the numbers we drove. And I think Fanatics.com is definitely deserving of this award for the 2nd time in the past 3 years. I wouldn't necessarily say we are "Elite" or "World Famous" but there are few out there who do what we do as well as we do it. Odds: 1-1 (yeah, a homer pick).
WP Engine – I have heard good things about WP Engine and I have read some not so good reviews. I have no personal experience with them so it is tough to handicap this pick. From what I have seen though their affiliate team seems to be very engaged with their affiliates and has some great communication, payouts, and promotions. Odds: 6-1
My Pick: Call me biased but I am going with the home town team: Fanatics.com wins again.
Affiliate Marketing Advocate
Like in the past I am not really going to make a pick here. All three nominees (Brian Littleton, Tricia Meyer, and Greg Hoffman) have done a lot of hard work this year to advance the industry. Brian continues to provide great leadership to The PMA, Tricia has shared a ton of great information about issues like the FTC Disclosure issue and Greg Hoffman has some awesome information on his blog about how to effectively run an affiliate program. They are all very, very deserving of this award for all they do for the industry.
OPM Agency of the Year
Acceleration Partners – It seems like Acceleration Partners is up for this award every year but they do deserve to be here. They manage some of the biggest brands in the industry and do a great job at it. Very few OPMs know how to effectively balance the needs of the merchant with the needs of the affiliate but AP does an awesome job of that. Robert Glazer and his team have taken affiliate marketing up a few levels from where it was a few years ago and they are one of the leaders in the industry. Odds: 2-1
AffiliateManager.com – If there was ever an opportunity for a sentimental favorite it would be Affiliate Manager. They lost Jon Nunez, one of their leaders, this past fall and his loss will be felt in the industry for years to come. AffiliateManager.com boasts a very large portfolio of clients and have been stalwarts of the industry for years. Odds: 1-1
Schaff-PartnerCentric – Schaaf-PartnerCentric was in the running for the award last year as well and is due for a win. Their years of experience is hard to match in the industry and they have been able to successfully branch out beyond traditional affiliate management. Odds: 5-1
My Pick: I have to go with AffiliateManager.com on this one. #jonstrong.
Tool/Service of the Year
BrandVerity.com – BrandVerity.com has saved merchants thousands and thousands of dollars over the years by helping them monitor and deal with trademark bidders, unauthorized PPC affiliates, shady coupon sites, and other affiliates who exist to do little more than steal from merchants. Well done BrandVerity. Odds: 1-1
FMTC – FMTC continues to churn out some awesome features. If you only know them as a coupon feed provider you need to look again. Every month it seems they put out some new tool or feature to help bloggers monetize their content, help merchants more effectively handle coupons and promotions, and help affiliate managers reach the affiliates they want to work with. Odds: 2-1
UpSellIt.com – Cart Abandonment tools can be very helpful in the right circumstances or they could just be a very, very expensive affiliate that provides very little incrementality. It all depends on how you want to work with them and UpSellIt can pretty much be configured to help you grab sales in a number of different ways. They can be a great tool for a merchant if they help you fill in areas you are lacking. Odds: 8-1
My Pick: BrandVerity.com is the king of this category and are deserving of another award for their trophy case.
Congratulations to all the nominees. Again, they are all deserving and worthy candidates. If you are going to Affiliate Summit West in Vegas be sure to swing by the awards presentation on Tuesday morning at 11:00 and see who takes home the hardware. And be sure to register for Affiliate Summit East in NYC as soon as you can.
Who would you pick for these awards? Leave a comment and let me know.