For the past few years I have written a post handicapping the Affiliate Summit Pinnacle Awards where I would pick the winners, give odds, and make some witty comments here and there. I was planning on forgoing that post this year but I heard from a number of people that said it would ruin their year if they didn't get to see my picks so here you go.
Overall I know most of the nominees fairly well so hopefully I won't make too many people too sad with these picks. These picks are mostly for fun but I hear the sports book at Paris might be taking bets on these.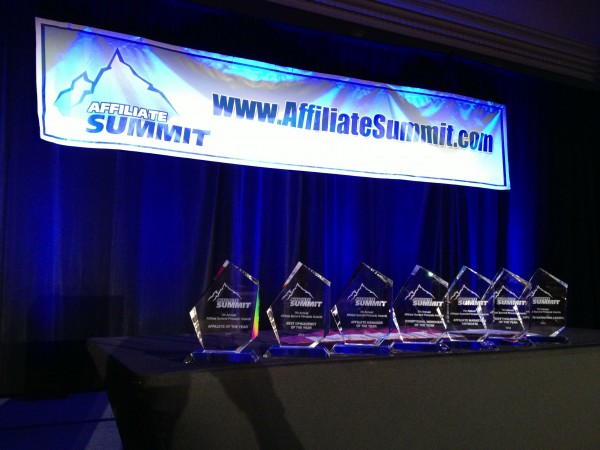 Affiliate of the Year
Rae Hoffman – I probably say this every year but there are few people in this industry who know their stuff better than Rae. Whether it is SEO, affiliate marketing, or rooting for terrible, terrible football teams (at least they have the #1 pick this year) Rae has few equals. But I hear rumors that she won't be there to accept this award. That could hurt her chances a bit.
Tricia Meyer – Not sure how many nominations Tricia has over the years but she is always very deserving of any honor she might receive. Tricia has a number of different types of sites out there and she has an awesome session at Affiliate Summit where she will lay out exactly what her and her partners have been able to do with their WineClubGroup.com site. They will break down how they did it, their income from the site, tools used, and a lot more practical advice. If it wasn't scheduled opposite of the Seahawks game I would be in the front row to hear them. And speaking of football, what is with these terrible choices of football teams for these nominees?
Viglink.com – I always like these awards to go to individuals and not companies so it is hard for me to pick Viglink. But Viglink does have some cool tools that help blogs and other sites easily monetize their sites. The do have some issues and things they could improve from the merchant side of things but they do know how to generate revenue.
My pick: I think Rae finally breaks through for her first Pinnacle award this year. A very deserving recipient.

Loading ...
Affiliate Manager of the Year
Luke Kling – I have only met Luke a couple times but I know quite a few people who have worked closely with him. I am not huge into the CPA world anymore but if I were to be I am pretty sure Luke would be one of the first people I would contact. Few people have had the longevity on that side of things and he has helped a lot of affiliates make money.
Adam Riemer – Adam has been in this industry for a long time and I think this is his first nomination. Adam is well known for running some very clean affiliate programs, knows how to make his merchants money without working with toolbars and low value coupon sites, and he provides some of the most useful information on his blog that affiliates can put into practice.
Joe Sousa – Well, it would be pretty lame of me to pick myself wouldn't it? My wife and kids think I should win though so there is that.
My Pick: Gotta go with Adam Riemer for this one. Another first time winner that has been deserving for many years.

Loading ...
Exceptional Merchant
Abe's Market – Earlier this year Abe's Market won a Small Business Influencer award with 4400% growth which is pretty amazing. Sarah, Carolyn, and the rest of the team at All Inclusive Marketing have done a great job with this program over the past year and have shown some awesome growth numbers.
Wayfair.com – Wayfair has done some very innovative things this year with their commission payouts and how affiliates are credited for their value. Innovations like this help push the industry forward.
Fanatics.com – Once again, can I really pick the company I work for? I know the numbers we drove last year, I know the challenges we faced, I know the awesome affiliates we work with and I know what Wade and I have been able to do with this program over the past year. But going back to back is very, very tough when it comes to Pinnacle Awards.
My Pick: I think Abe's Market takes this one. If Fanatics hadn't won last year I think they would have a good shot but new blood is always good so congratulations Abe's.

Loading ...
Affiliate Marketing Advocate
Rob Glazer – Every time I turn around I see an awesome article posted by Rob somewhere on someones site giving some awesome insights into where the affiliate industry has been and where it is going. Few people in this industry are as forward thinking as Rob and he is a driving force in steering the affiliate industry in new directions.
Brian Littleton – This could be Brian's 4th Pinnacle award and I can't think of any one more deserving of multiple awards. Brian's work with the PMA has been very beneficial to this industry in fighting nexus issues, dealing with FTC disclosures, and other major issues facing this industry. And Shareasale is pretty awesome too.
Tricia Meyer – Once again, we come to Tricia. As a member of the PMA board Tricia has been a great blessing for this industry. She has some awesome blog posts calling out merchants who have done some shady stuff and her legal background has been very helpful in clarifying some of the FTC disclosure issues.
My Pick: All three candidates are very deserving but it is Tricia's time. And not just because she told me to pick her.

Loading ...
OPM/Agency of the Year
Acceleration Partners – Their client list and the numbers they generate for their clients speak for themselves. They work with some of the biggest programs out there and consistently deliver great results. Their processes are much more advanced than most other agencies I know of and they deliver for their clients year after year.
ebove and Beyond – Jen Ward and her team has an impressive client list and in some ways kind of flies under the radar but she knows her stuff when it comes to managing affiliate programs. And she does a lot more than just helping clients with their affiliate programs providing many other services. I might just give her this award to cheer her up after the stomping my Seahawks laid on her Panthers over the weekend.
Schaaf-PartnerCentric – Brook and Forrest have built an impressive agency over the years. Their new coreOPM service hits a segment of the market that is under served and through their acquisitions over the years they have been able to build up a very large stable of clients.
My Pick: Jen will probably hurt me if I don't pick her but I have to go with Rob Glazer and Acceleration Partners for this award. Long overdue.

Loading ...
Tool/Service of the Year
BrandVerity.com – I am a regular user of this service so I know how much money it can save merchants, I know how much time it can save merchants, and I know how powerful it is in helping merchants keep an eye on what their affiliates are doing, particularly when it comes to paid search and coupon usage. Can they pull of the three-peat?
Shareist.com – Years ago I remember looking under the hood of the first version of Shareist and seeing where Scott Jangro has been able to take it from there is very impressive. Shareist is an awesome tool for anyone who creates content and it makes many of the frustrating or tedious content creation processes much less painful.
FMTC.co – What started out as a database of merchant coupons has grown to include an impressive suite of tools for bloggers and website owners. They have recently repackaged some of these tools as Fresh Press Media and as they continue to build out their toolbox they will be a very valuable resource for affiliates of every size.
My Pick: Winning three years in a row is very difficult and if anyone is deserving it is BrandVerity but I think the voters will go with Shareist this year.

Loading ...
So there you have it. 6 very deserving winners and 18 awesome nominees. And of course none of this is official. Just my thoughts. You will have to go to the keynote on Tuesday morning at Affiliate Summit to see who takes home the awards.
Do my picks suck? Do you have any issues with who I picked? Vote in the polls above and be sure to leave a comment to let me know why you chose who you chose.