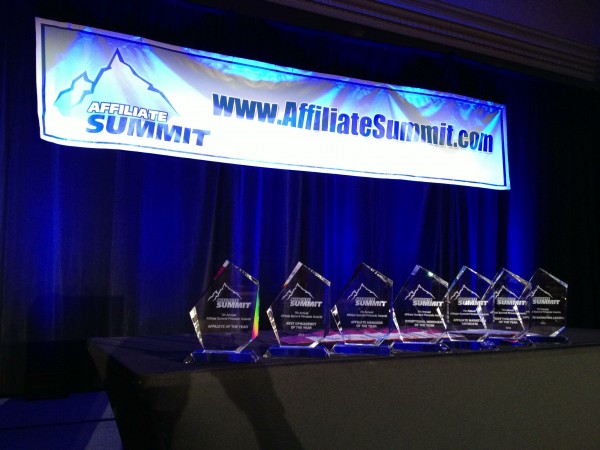 The Affiliate Summit Pinnacle Awards finalists came out today. Every year at Affiliate Summit West the Pinnacle Awards are given out honoring the best of the best in our industry. In past years I have handicapped the awards and picked the winners but I decided to do it a bit different this year. Instead of giving odds I will just tell you who I would pick and why. This year, unlike some past years, I know everyone who was nominated very well. Most of them are people I consider friends, are companies I have worked with, or tools I have used.
Of course my picks have no bearing at all on the final outcome and these are just my opinions. Take a couple minutes and cast your own votes as well.
So lets get to the picks:
Affiliate Of The Year
Rae Hoffman: Rae has been in the affiliate/SEO industry for a long time and has been one of the more successful affiliates I have known. She has built a number of sites and has been one of the best bloggers in the industry for years.
Eric Nagel: I have know Eric for a few years and he is one of the smartest people I know in this industry. We are speaking on a panel together (Monday, 10 AM about Beyond Affiliate Income: Diversifying in the Industry about how to take what you have built in the affiliate industry and diversifying your income outside of just building affiliate sites. Eric has a number of affiliate sites and is also one of the most talented programmers in the industry.
RetailMeNot.com – If  you haven't heard of RetailMeNot.com you must not have ever searched for a coupon. They are probably the biggest affiliate out there in terms of revenue and sales driven.
The Winner: Based strictly on sales RetailMeNot.com would be the easy pick but I think this award should bring in more factors than just sales revenue. Because of the great knowledge she drops on her blog, how she has helped many, many people in this industry, and how effective she has been in the business over the years I am picking Rae Hoffman as the winner.
[socialpoll id="2181169″]
Affiliate Manager of the Year
Khushbaht Abdulloev: Kush is the affiliate manager for VMInnovations.com. He kind of started from scratch a few years back but has quickly learned a lot about affiliate management and has built the VMInnovations.com affiliate program into one of the top merchants in Shareasale.
Greg Hoffman: Greg is a veteran of the industry and runs Greg Hoffman Consulting. He has a large number of quality merchants he works with and his stances on toolbars and coupon sites that provide no value are a great asset to this industry. As long as he can remain incident free…
Joe Sousa: Yeah, that's right. Somehow I got included with this group. I have been in the affiliate industry for about 15 years now but have only been an affiliate manager for 20 months or so and I was very surprised to see me on the finalist list. I started out working with Snow Consulting and am now the Affiliate Coordinator for Fanatics.com. I have learned a ton from the people I have worked with and owe them a great thank you and know there are many, many more people more deserving of this award than me.
The Winner: Out of these three I would pick Kush as the Affiliate Manager of the Year. He has come a long way in this industry and runs a great program at VMInnovations.com. He is committed to keeping his program clean and does an excellent job of balancing the needs of the affiliates and the needs of his merchant.
[socialpoll id="2181171″]
Exceptional Merchant
Fanatics.com: Fanatics.com is the largest online retailer of licensed sports merchandise. They have had a great affiliate program for a number of years and the program is led by Wade Tonkin and he is helped out by me and Erin Routzahn. Along with Fanatics.com they also run FansEdge.com, NFLShop.com, NBAStore.com, Shop.NHL.com, store.NASCAR.com, SurfFantics.com, and a number of team specific sites as well. As of this writing they are a top 5 merchant in the Shareasale.com Power Rank.
Target.com: I don't have much experience with the Target affiliate program but if it is managed by Acceleration Partners I know it is being managed the right way. Large companies like this are always tough to judge since they drive a lot of revenue but can be a bit unwieldy. If anyone can handle a merchant like this it is Rob Glazer and his team.
VMInnovations.com: VMInnovations.com is a multi-category merchant that sells sporting goods, baby gear, electronics, home and garden, and a number of other categories. They are a consistent top 50 Shareasale merchant and with Kush at the helm the affiliate program is in very good hands.
The Winner: Yeah, I might be a bit biased here but I am going to go with Fanatics.com. I was an affiliate of theirs for many, many years before I started working there so I know their program very well from both sides. As an affiliate they were great to work with and as an affiliate manager it is awesome to see how they want to work with affiliates in a way that makes sense from the merchant side but also rewards affiliates for driving incremental sales.
[socialpoll id="2181174″]
Affiliate Marketing Advocate
Rae Hoffman: I see Rae's blog as one of her greatest contributions to this industry. Rather than just talk about theoretical ideas she will lay out exactly how to go about researching a niche, finding merchants, putting together sites, and what tools to use. There are very few affiliate blogs that contain as much quality information as she puts out.
Brian Littleton: What more needs to be said about Brian? He is the president of the PMA and his work in fighting the nexus tax in Illinois and throughout the country has had a great positive impact on a number of merchants and affiliates. His company Shareasale.com is one of the most ethical companies I have ever seen and their stance against toolbars, adware, and other parasitic affiliates gives merchants and affiliates a network to work with where they know their sales and commissions will be safe. He also puts together fun fundraisers like the I "heart" CyberMonday shirts and he also throws the best parties at Affiliate Summit.
Tricia Meyer: Tricia provides great information on her blog and she isn't afraid to call out merchants, affiliates, and companies when they do something that can hurt the affiliate industry. Her Naughty and Nice list points out some merchants who are hurting their affiliates and she isn't afraid to stand up to merchants when they try to screw their affiliates.
The Winner: This is always the toughest category for me to pick. All three of these nominees have done some awesome things for the industry this past year. In the end though Brian's work with the Performance Marketing Association stands out and he gets my vote. So Brian Littleton is my winner.
[socialpoll id="2181175″]
OPM/Agency of the Year
Acceleration Partners: Robert Glazer (one of the smartest guys in this industry) runs Acceleration Partners and he has put together a very impressive stable of big brand merchant programs. His merchants consistently dominate the Shareasale PowerRank and he knows how to drive a LOT of incremental sales for his clients.
All Inclusive Marketing: Sarah Bundy has put together a very, very impressive team to work with her  at A.I.M. including Carolyn Tang Kmet and Lisa Picarille. Along with affiliate management they also provide a whole host of services to serve their clients.
Greg Hoffman Consulting: Greg and his team have a large list of clients and is a three time winner of the Abestweb OPM of the year. He is very good at taking an existing program, looking at who is generating sales, cleaning out the bad performers, and then building the program back up with quality affiliates who can drive incremental sales.
The Winner: My pick for this one would be Greg Hoffman Consulting. He has done some great things with his merchants over the past couple years. He tends to keep his clients around for a long time compared to some other OPMs and he is regularly bringing on new clients as well.
[socialpoll id="2181176″]
Tool/Service of the Year
BrandVerity.com: In terms of saving merchants money there are few tools I can think of that provide more value than Brand Verity. They provide paid search monitoring, coupon monitoring, and social media monitoring. If you are properly managing an affiliate program this needs to be a service you use. If you use it properly it will save you much, much more than you pay for it.
For Me To Coupon: For Me To Coupon provides coupon feed services for many of the top coupon and deal sites. They have some great tools to make it easy for affiliates to easily integrate all the coupon/deal feeds from all the major affiliate networks and it is very useful for merchants and affiliates alike.
Shareist.com: Shareist has evolved over the last few years and is a great tool to manage your content, social media, blogs, newsletters and more. You can curate, schedule, and share your content across multiple platforms. Scott Jangro and Damien Arlabosse have put together an awesome tool.
The Winner: Brand Verity is my pick here. Their monitoring tools save many merchants thousands of dollars every day by helping them police trademark bidders, keep unauthorized coupons off the coupon sites, and making sure social media is being used properly by your affiliates.
[socialpoll id="2181177″]
This is probably the strongest field of finalists I have seen over the past few years. Everyone that was nominated is very worth of winning and it will be exciting to see how it all unfolds at Affiliate Summit. Leave a comment and let me know what you think and be sure to vote on who you would pick.
And remember, these picks are just for entertainment purposes. Please, no wagering.