Earlier today a misguided individual wrote an article proposing that affiliate marketing was broken. My first instinct was to shake my fist, stand up for my industry, and rip this guy apart. But the more I thought about it the more I saw unfortunately he was right. Kind of…
When he says "The goal for all ecommerce marketers should be incremental sales growth, but that is hard to do when you're paying twice for an incremental sale with these coupon affiliate sites" he is pretty much correct. It is nearly impossible to have an effective affiliate channel when all you are doing is paying coupon sites for non-incremental behavior.
The big problem here, however, is he paints the whole industry with that big, wide brush. Of course there are a lot of mis-managed affiliate programs out there that are run by people who wouldn't know what an incremental sale was if it came into their house, gave them a foot rub and a big bowl of ice cream. Sadly enough there are more of these types of merchants and affiliate programs in the industry than there should be. And even sadder many of these are large programs for major retailers. They are wasting SO much money in their affiliate channel that they would be better off scrapping it all together.
Eric's problem with the industry is exacerbated even more because he is looking at networks that aren't necessarily known in the industry for having the best interests of the merchants at heart. CJ, LinkShare, and EEAN (the affiliate networks he mentions) push these non-incremental sales practices whenever the can because it lines their pockets.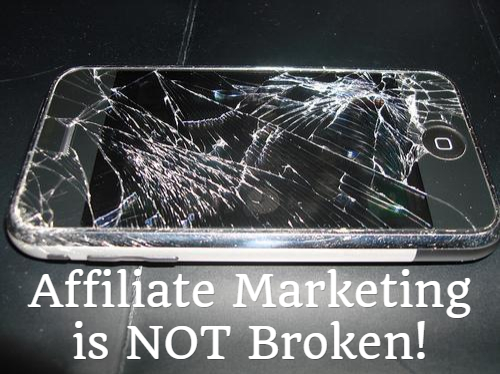 But here's the thing: An affiliate program doesn't have to be run this way and affiliate marketing is definitely NOT broken. There are some awesome affiliate managers out there that know how to manage an affiliate program that generates incremental sales, can recruit content sites and bloggers, know how to work with the coupon sites to generate incremental sales and minimize the non-incremental behavior, and in general run a program that can be a profit center for the merchant.
So what is a merchant to do?
1. Work with a qualified, experience affiliate manager – Don't just pawn the affiliate program off on an intern, general marketing agency, or someone in the marketing department who has no experience in the industry. This is where most merchants go wrong. Hire someone qualified internally to focus on the affiliate program if the program is big enough to justify a full time employee or outsource it to someone who knows what they are doing. If you need any recommendations please email me and I will be more than happy to connect you with some great affiliate managers who know how to make you money.
2. Work with an ethical affiliate network – Shareasale.com and Avantlink.com are the two networks I would recommend. In my opinion any network beyond those two will be a waste of your money.
3. Whatever you do, don't let the network manage your program – First of all, it is way too expensive to start. Second of all, they are paid a percentage of the sales so the more sales they make the more they earn. Problem is they are just looking to increase their sales numbers however they can and that leads to encouraging non-incremental behavior from coupon sites, toolbars, adware, etc.
4. Allocate the proper resources – If you want quality affiliate management you have to pay for it but you do truly get what you pay for. If you only want to pay $500 a month you will not see any decent results. Also, you need to be ready to reward incremental behavior. Those costs can be offset by reducing the non-incremental behavior though and in the long run a well managed program will be much less expensive for you.
The affiliate channel can definitely be a benefit to your business if it is run properly. There are no short cuts, it isn't easy, and it isn't something a lot of people know how to do but in nearly every case it is definitely possible to have an affiliate program that can make money for the merchant and be beneficial to their business. Drop me an email and I would be happy to point you in the right direction. Affiliate marketing is NOT broken. Bad affiliate marketing is broken but good affiliate marketing is not broken. Not by a long shot.