OK, I think this is a great time for a story:
Once upon a time there was a cookie store. This cookie store had been around for many, many years and had built a great customer base who liked what they sold. Over the years they had become one of the biggest cookie stores in the world and people came from all around to eat their cookies.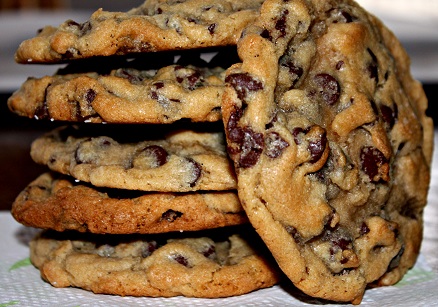 In a small house on the edge of town lived a sweet lady who everyone in town knew and loved. Every week without fail she would open her cupboards, turn on her oven, and bake 3 dozen of the best cookies you could ask for. These cookies were made with years of care and love behind them and only had the best ingredients. Once a week the lady would pack her cookies up in basket and make the trip to the cookie store. 
For many years the lady sold her cookies to the cookie store at a very fair price and she delivered three dozen without fail week after week. In the beginning the cookie shop loved getting these cookies but as the years went on they lost sight of how important these cookies were.
Meanwhile, the cookie store received truckloads of factory made cookies every week. Worse yet, after a while there was a group of hijackers who would steal the truck right before the deliveries were made and charge the cookie store even more for the cookies. They also demanded the cookie store pay even more than before for their deliveries and the cookie store did so month after month. Sometimes the hijackers even stole the sweet lady's cookies while she was delivering. If this isn't bad enough from time to time there were hijackers in the actual store that stood by the cash register and tacked on their fee while the customers were checking out.  To make things even worse the cookie distributors were in the ear of the cookie shop saying they should be doing more business with the cookie factories and hijackers and they are paying these distributors a LOT of money for this bad advice. Did I mention the distributor gets a cut of what the distributors and hijackers are making???
After a while the cookie store inexplicably told the sweet lady they didn't want her cookies any more. All they wanted were the overpriced, factory made cookies. Don't get me wrong, the factory made cookies are very tasty but they don't hold a candle to the homemade cookies from the lady. With the hijacker's fees and extra costs the factory cookies ended up costing more than homemade cookies but the cookie store was just interested in someone who could deliver hundreds and hundreds of cookies, not just the 3 dozen the lady would make.
Little did this store know that the people who came in and bought the cookies the lady made would no longer shop there once they found they weren't carrying the delicious cookies they had come to love. They knew the lady and knew how much she cared about the cookies she made and they wouldn't support the cookie store any more. They started shopping at a competitor.
OK, enough of the story. Do you get the picture? This scenario is happening every day in the affiliate industry. "Small" affiliates (sweet lady) who have been consistently driving sales for years are getting pushed out of the picture by merchants (cookie store) who only want to work with the big coupon/deal sites (factory cookie makers) and toolbars (hijackers). Affiliates who have been driving 5, 10, 20 sales a month and more are being removed from affiliate programs by big, brand name merchants because they aren't big enough.
I have no idea how the merchants can justify this. I have nothing against the coupon sites who do things the right way (drive new customers, create sales, are compliant with affiliate terms, are responsive, etc… more on that in another blog post) and are benefiting merchants. The toolbars are another story completely and are pretty much of no value to any smart merchant. But to remove a quality affiliate who can drive incremental sales??? I don't care if that affiliate is driving 2 sales a month, 50 sales a month, or 1,000 sales a month. Any sale that adds to the bottom line of a merchant should be one they covet.
How can we prevent this? Talk to merchants and educate them. Refer them to a quality affiliate manger (contact me if you want some suggestions). Tell them to get away from networks that promote this kind of behavior and go to quality affiliate networks like Shareasale.com. Connect with your affiliate managers and build a relationship with them. Get involved in the industry through groups like The PMA.
Personally I think there will always be plenty of merchants who value the "small" affiliates. The smart ones who know how to value the affiliate channel and know what makes an incremental sale will bend over backwards to work with affiliates who can drive value. These affiliates might get shut out of some of the big brands but in most cases there are quite a few different merchants who would love that traffic. These merchants might not have the brand names but they do have other selling points like better customer services, better shipping rates, cheaper prices, more knowledgeable staff, etc. that give the customers a reason to buy.
Stories like this are becoming way too common. What do you think? How can we keep this from happening?
BTW, if you have a bunch of these homemade cookies drop me a note. I know plenty of merchants who would be happy to work with you.