Back on June 10th I posted about a weight loss challenge I was giving myself. My goal was to lose 20 pounds before Affiliate Summit East which starts next week. You can read my post about that here.
A quick recap: When I started I was 218.2 pounds so I would need to be at 198.2 to complete my goal.
I haven't been doing anything too radical to lose the weight. Mostly just eating a bit better and exercising more. I haven't been taking any Acai berry or hoodia or any gimmicks like that but have (for the most part) cut out a lot of the junk food I used to eat, eat smaller portions when I do eat, and try to walk or run 3-5 times a week.
That isn't to say I don't occasionally indulge. Just a couple days ago on Wednesday I ate this: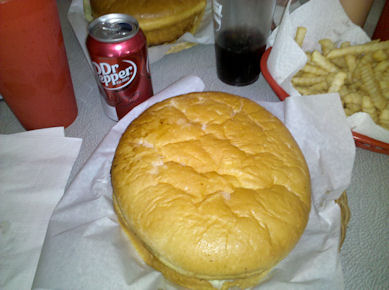 That burger does look as big as you think. It was probably 8 or 9 inches across and the patty was a full pound. I was able to plow through it in about 10 or 15 minutes and it all went down suprisingly easy. And I finished off a bunch of the fries als0.
So I haven't been starving myself. And that is only the second "really bad" meal I have had since I started. So one of those a month seems to be acceptable.
Anyway, I got on the scale today and look what I saw: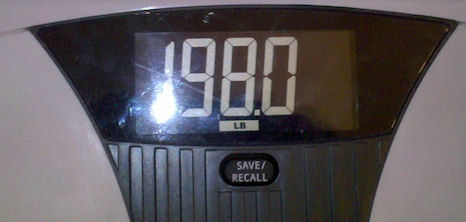 198 pounds!!!
I was able to reach my goal with about a week left until Affiliate Summit starts. 20 pounds gone and hopefully never to come back. When you see me at Affiliate Summit there will be a bit less of me to see. Now don't think this gives you the right to not take me out to pizza or bagels or street meat or any of the other great foods New York has to offer. I will still eat with the best of them when the opportunity arises. I can always lose the weight when I get home.
I will probably keep going and try to get down around 190-195 or so and try to maintain there. I don't want to get too skinny and I will probably start doing more strength workouts to get some of the muscle back but for now I am at 198 and I was able to reach my goal!
There were a few of you who were also gonna try to drop a few pounds. How have you been doing? Remember, I am gonna donate $2 for every pound lost to Affiliate Marketers Give Back. So post your updates in the comments and let me know how you are doing.