It takes quite a bit to get my off my lazy butt and write a blog post nowadays but recently there are two resources that have been released for affiliates, particularly new affiliates, that I thought you might want to read about. These two resources are from some of the more respected and experienced people in this industry.
There are so many affiliate marketing courses or online marketing training programs out there that are absolute garbage. So it is rare when some quality training material comes out and is worth sharing but with either of these two resources I am convinced you can take them and start earning an income from affiliate marketing. Neither of these courses in and of themselves will make you rich but if you take the ideas they are teaching, follow them, make them your own, learn from them, and put the work in you can make a few extra bucks.
Don't go into these thinking you can quit your job in a month. Set your goals somewhat small to start out. Maybe something like $100 a month to pay my phone bill or $200 a month to cover the electricity or something like that. Once you achieve that goal bump it up to your $500 car payment or your $1500 mortgage payment. It will take a lot of work, a lot of mistakes, and a lot of failure to reach those goals so I would encourage you to give affiliate marketing 6 solid months before you decide if it will work for you or not.
Anyway, enough of my rambling. Here are these two great resources:
Affplan.com is the brainchild of Todd Farmer. What? You haven't heard of Todd Farmer? Well, back in 1996 Todd founded Kowabunga Marketing Inc. which was one of the first affiliate tracking platforms and he has been in the industry ever since. I can only think of maybe 1 or 2 other people who have been in the industry as long as Todd and there are very, very few with as much experience and knowledge of the industry as a whole. When Todd says something you would do well to listen.
Along with his experience and knowledge Todd is one of the "nice guys" as well. He will take the time to talk to anyone who needs help and really wants to help people succeed in this industry.
And if that isn't enough Todd brought in Tricia Meyer to drop some knowledge as well. If you can't learn from these two there is something wrong with you.
Affplan.com is full of great videos, walkthroughs, cheat sheets, tutorials, and much much more. It takes you from the very beginning of the process where you brainstorm niches, domains, do your keyword research, and goes from there. Some of this info may seem a bit simplistic but it is very necessary if you are going to succeed as an affiliate. From there it moves on into how to build your site, how to develop content, and how to develop your overall plan for your site. There are some great checklists and worksheets to help you walk through the whole system.
One of the best parts? It is only $10! Not $10 per month, not $10 per module but $10 for everything. The price will be going up so if you don't read this in the next day or two you might have to pay more so if you are thinking about it jump in now. Sign up today and take advantage of this great deal. Below is a quick screenshot of the members dashboard.
The second great resource is Extra Money Answer from Shawn Collins. Shawn is one of the founders of the Affiliate Summit conferences which are the largest conferences in the affiliate industry.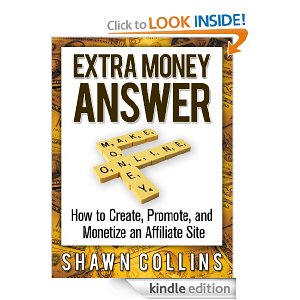 Shawn originally put this information out on his website but recently moved it into an ebook available on Kindle. Right now the book is free but the price could go up at any time  the book is only $2.99 which is a great deal so I would encourage you to download it soon.
In this ebook Shawn starts at the beginning with Pick a Topic for Your Site and moves on to chapters about How to Creat Content for YOur Site, Driving Traffic to Your Website, Finding Affiliate Programs, and more. It walks you step by step through the process of going from an idea to a site that will make you $20, $50, or maybe $100 a month.
All in all it is a great resource for someone looking to get started in affiliate marketing and it is also a good refresher for industry veterans.  Download it today and take a look.
Hopefully one or both of these resources will be helpful to you and give you an idea of where to get started. If you need more help please drop me an email and let me know how I can help you. Also if you have used either of these resources leave a comment below and let me know what you think.