To start out let me get this out of the way: My company is one of the partners in Traffic Geyser. There are three of us partners so yeah, this post might be a bit biased. I will try to keep it objective and not make it totally sound like a sales pitch and hopefully it will be helpful and give you some ideas of how you can use video and Traffic Geyser as part of your marketing system.
So what is Traffic Geyser? In it's simplest form Traffic Geyser is a tool to distribute your video and other content. Traffic Geyser will take your video and submit it to a bunch of different video sites (I think around 35 right now and that is always changing), social bookmarking sites, other social media sites, it will strip out the audio and submit to podcast sites, and if you want you can have your video transcribed and turned into articles and submitted to article sites.
But that is only the start. There are a lot of other features such as custom landing page builders, WordPress plugins, automated posting of blog content, and tons more. If you don't have a video camera or microphone you can even just use our slideshow creator and then call in to an 800 number and record your audio over the phone. There are also dozens of training videos covering everything from keyword research to choosing a camera to properly lighting your video shoot. All in all it is a very complete marketing system.
Just to give you an example of what Traffic Geyser can do I want to show you a test I did last night. As you may or may not know I do a lot of affiliate stuff with sports related items. Jerseys, hats, shirts, etc.  This past weekend Alabama won the SEC Championship so I built a quick video yesterday showcasing some of the new Alabama SEC Championship T-shirts. I took some of the images from the merchant I work with, added in some music, recorded some audio and edited it all with Sony Vegas. I am not good at all at editing videos but it only took about 20-30 minutes to put the whole thing together.
Since this was basically just a test to show an example here I didn't do a ton of keyword research but I wanted the video to focus on the keyword "Alabama Crimson Tide SEC Championship Shirts" and send the traffic to my site AlabamaFanGear.com.  I know that is a pretty longtail keyword but there were still almost 88,000 competing sites in Google. And also since that is a fairly new keyword that people would be searching for I couldn't really get any potential traffic numbers.  Anyway, I built the video with that keyword in mind.
At 6:00 PM Pacific time I submitted the video using Traffic Geyser and then went out for the night. I wish I could have checked sooner but when I got home around 11:00 or so I checked and the video had two top 10 listings on Google. I am guessing they were there within an hour of submitting but either way that is pretty fast. Here is a screenshot: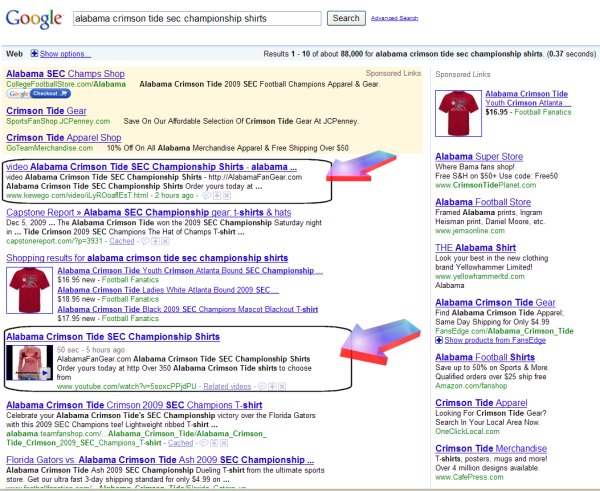 I started looking at some other keywords also and found that it was listed for the following keywords also:
Alabama Crimson Tide Championship Shirts (64,000 competing pages)
Crimson Tide Championship Shirts (86,000 competing pages)
SEC Championship Shirts (148,000 competing pages)
Alabama Championship Shirts (1,020,000 competing pages)
I am sure there are more keywords it is listing for using different variations of those searches but those are a few. What I have generally seen is if you can find a keyword with less than about 300,000 competing pages there is a very good chance you can quickly get some top 10 listings in Google for your video. It doesn't always happen but also we regularly see videos list for more competitive terms as well. It is really hard to say what "typical" is but this is just what I have seen and what we have seen from many of our users.
Now I am terrible at properly tracking everything so it is hard for me to say how much traffic and sales come from these videos but I did build a similar video when Jay Cutler signed with the Chicago Bears and within the same day I was seeing sales for Cutler Bears jerseys. Not totally sure if they were a result of the videos but I didn't really have anything else pointing traffic to that page so I am assuming the sales were because of the traffic from the video.
So how, as an affiliate or affiliate manager or SEO or internet marketer can you use video and Traffic Geyser to help your business? Here are a couple quick ideas:
1.  Target hot markets: Since these videos generally list fairly quickly it is a good way to capitalize on hot niche markets. Example: Let's say you are watching the Today Show and they are talking about a new book. There is a good chance there will be a spike in searches for that book so if you can crank out a quick video about the book and have it lead traffic to a simple landing page on your site with an Amazon link to that book you might be able to pick up a few quick sales.
2.  Product reviews: Take a product and do a review of it. You could just do a quick, basic review and tell them to go to your website for a more thorough review and drive traffic that way.
3.  Videos work great for local SEO stuff:  If you wanted to turn this video stuff into a small side business you could go around to local businesses and tell them you will build them some videos and get potential top 10 listings on Google. We have many users who are doing this and making thousands of dollars per month. Once again you will want to target keywords with 300,000 or so competitors when possible. You could also use this to generate leads and then just sell the leads.
4.  Merchants can produce videos for their affiliates to use:  There are VERY few merchants who have videos available for their affiliates to use for marketing purposes. There are some merchants that let their affiliates embed some video creatives but imagine if a merchant made a bunch of product review videos and let their affiliates use them to drive traffic. It is a very untapped market.
Those are just a couple ideas off the top of my head. I am sure you can come up with more ways you can use some simple videos and Traffic Geyser to increase your traffic and sales.
OK, now it is time for the sale pitch:  At noon on Tuesday, Dec. 15th (which will probably be within a few minutes of when I post this) we are doing a big relaunch promotion of Traffic Geyser called the Traffic Geyser Firepower System (I don't think of the domains. That isn't my department). This system will will include a year of our Platinum Elite service (which is normally $250 per month), a TON of new training videos, and access to our brand new iPhone App Builder so you can build your own iPhone apps with the push of a button. I haven't even had a chance to play around with this yet but it could be pretty useful for a lot of people. There are also a lot of other extras we are including with this package. All this for the unbelievable price of $1997!!! There is also a 90 day money back guarantee so if you try it and don't like it you can get your money back.
Enough of the sales pitch. Seriously though, this is a very good system if you do any sort of videos. And if you don't do anythign with videos you should. There is huge potential out there and there are very few affiliates who are properly using video. I would be happy to answer any questions you might have about Traffic Geyser or videos in general. I am not an expert by any stretch of the imagination but I will do what I can to help you.
If you want to sign up and give Traffic Geyser a try you can check it out here. There are some good case study videos and stuff you should look at before you buy also that will give you an idea of what some other people are doing with Traffic Geyser. And if you do end up buying it and are going to Affiliate Summit West in Vegas in January let me know and I will take you out to dinner. Just leave a comment and let me know. How can you beat that offer?
If you do have any questions about Traffic Geyser please leave a comment and I will answer them. I generally despise sales letters and most internet marketing products but this really is a good system. So leave a comment and let me know