EDIT: It is now 2014 and while some particulars have changed the sentiment is the same. I will really miss going to New York and ASE14. But at least this year I will be able to console myself by cuddling our new, sweet baby girl due in just 4 short weeks. And the recipe below still rocks. I am still working on perfecting it but the one below is very close. And for this recipe I never really measure anything, just eyeball it. The measurements are a good place to start though. 
Well, it is August which means Affiliate Summit East is fast approaching. In just a few days affiliate marketers from around the globe will be descending on New York to enjoy a great few days of fun, learning, networking, and partying.
But alas, I won't be attending this one. I hate missing conferences like this and the next week or so will be torture for me seeing all the updates on Twitter and Facebook and knowing I am missing out. I will miss the late nights at the Old Castle, I will miss the sessions, I will miss talking to people in the hall, I will miss Brian Littleton on the piano, I will miss the Shareasale Under The Stars 70s Disco party, I will miss seeing all the friends I have made over the past decade plus in this industry, and I will miss being around some of the greatest people I have ever met.
Another thing I will really miss is street meat. You know that cart outside the Hilton that serves some of the best food known to man from 7:00PM until 4AM? The one with the huge line at all hours of the night? Yeah, that is the one.
I know there are quite a few of you out there who won't be making it to ASE12 and will have an empty place in your heart that could only be filled with an awesome plate of rice, chicken, lamb, lettuce, and tons of white sauce. I will miss scenes like this:
Since the first time I went to NY a few years ago I have been trying to replicate this delectable culinary treat. While I have yet to perfect it I am getting close. The final product isn't as good as the original from the Halal Guys but it is close enough to tide me over until next year. Here is the recipe I have been working off of. There are some minor tweaks here and there and it changes every time I make it but if you start with this and play around with it you will probably have something that would pass as street meat.
Chicken: 
1. 6 chicken thighs, preferably boneless (bone-in is fine too), fat trimmed. 
1/2 tsp turmeric
2 tsp ground cumin
1/2 tsp ground coriander
1/4 tsp ground cloves
6 garlic cloves, crushed/chopped
3/4 tsp crushed ginger
2 Tbsp lemon juice
1/2 cup greek-style yogurt
sea salt
freshly ground black pepper
3 Tbsp olive oil
I large onion sliced or quartered
Put all ingredient together and 1 tablespoon of olive. Generously salt and pepper (remember those guys use a ton of black pepper). Let marinate overnight. Don't add extra turmeric for coloring, because it does have a rather strong flavor. 
Put the remaining 2 tablespoons of oil in a hot skillet. Make sure you skillet is pretty hot. I usually pick out the onion before I cook it. As you cook the chicken, you should press the chicken against the skillet with a metal spatula. As the chicken becomes done, break it up with your spatula. It can get pretty smoky in the house cooking it so I have been cooking it outside on the charcoal grill. I get a bunch of coals nice and hot and then slap the cast iron skillet right on top of the coals. So it is still cooked in a skillet, just outside.
Rice: I just cook the rice in my rice cooker with chicken broth and a couple tablespoons of butter instead of just water and add in a little turmeric (maybe 1/4 -1/2 tsp for 3-4 servings. better to have too little than too much) and a little cumin (1/4 tsp) and some salt. I think basmati rice works a bit better than jasmine but both work fine.
White sauce: It is mostly mayonnaise with some white vinegar and/or lemon juice added. Put in quite a bit of black pepper also. I don't have any measurements for this. Just start adding the vinegar and pepper until it tastes right. Don't over think the sauce. There is no yogurt, no cucumber, or anything fancy. The more I eat it the more I am convinced the sauce is mostly mayonnaise. One of these days I will try making my own mayonnaise and see what that does. 
I change things a bit every time I make it. More and more I have been enjoying it with less and less turmeric. It is a pretty overpowering flavor. You can also try adding a few strands of saffron to the rice. I also need to try it with lamb instead of chicken.
Spoon the rice on to your plate, add the chicken, and top with some shredded iceberg lettuce (it is amazing how much you miss the lettuce if it isn't there) and some flatbread. Then drench in the white sauce. You will probably need a minimum half cup of sauce per serving.
I thought I had a picture of the finished product somewhere. I will have to do some looking. Or maybe I just need to make up a batch so I can get a new picture.
UPDATE: I made up a batch of this last night and here is the finished product. It wasn't the best I have made but it was very good. I need to start making bigger batches of this stuff so I have more leftovers. I used some lamb in this batch along with the chicken and it definitely added another layer of flavor and texture. This plate of food lasted about 2 minutes.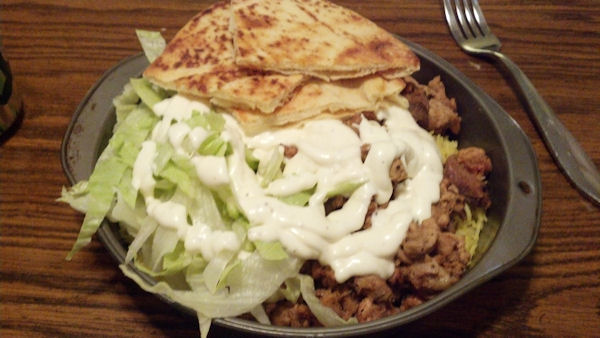 Hopefully this will help the rest of you who can't make it to ASE12 cope with the intense feeling of emptiness you will be feeling.
For all you that are going to ASE12: Have an awesome time and know that I miss you all.
For all of you that aren't going to ASE12: Make your own street meat and enjoy.
BTW, sorry for not posting more regularly. I will see if I can get a post up more than once every 3 or 4 months