Since most of you who are reading this are probably involved in affiliate marketing you probably know the feeling of having sat at your computer for 10 hours or so finishing up a website, updating 10 different blogs, or constantly reloading your twitter feed to keep up on all the latest conversations. It is time for a break. Maybe you just had your biggest commission day of the year and you need a reward. Maybe your sales were in the tank for the past couple weeks and you need to drown your sorrows in empty calories. Well, I have a solution for all these problems.
A few days ago Missy Ward, along with Mary Poiley and Jen Goode, released All About the Cookies. What is All About The Cookies? Simply put it is a cookbook containing 90 recipes. You will find recipes for cookies, cakes, desserts, brownies, pies, and pretty much any other dessert you can think of. And one of the best parts about this is all the recipes were submitted by other affiliates and people in the industry. If you look on page 89 you will see my submission.
I will be honest though. Not all the recipes in here sound great to me but most of them are worth trying. I am sure you will find a few recipes in here that will become family favorites. And just to give you a teaser, the recipe I have in there for some Insane Chocolate Brownies has 2 cups of butter, over 2 pounds of chocolate, and 6 eggs. Some of these recipes are extremely simple so you don't have to be an expert chef to turn out some great cookies and desserts.
Along with the recipes you will also find some great simple business tips from all these great people. They are just little tidbits from some of the greatest minds in this industry and are a very nice encouragement.
I was a bit bored so I decided to do some data crunching with this recipe book to see just how awesome (some people would say unhealthy) these recipes really are. We all know the three main ingredients that make a dessert awesome: fat, sugar, and eggs. Take these three out and you don't have dessert, you have a salad. And that isn't what we want. I went through and added up all three categories for each of the recipes and here is what we got:
First lets talk about fat. For this category I just counted stuff like butter, oil, shortening, and lard (yep, there is a recipe using lard). I didn't include milk, cream, or anything like that.
Total Fat in All About The Cookies: Approx. 49.35 cups
Let's give a little perspective here. A cup of butter (by far the most common fat in these recipes) runs about 1628 calories. So we are looking at  over 80,000 calories just from the fat. That will also give you around 5750 grams of saturated fat which is about 28,771% of your daily recommended allowance of saturated fat. Pretty awesome if you ask me.
Next lets move on to the sugar. I am just talking about granulated sugar, powdered sugar, brown sugar, honey, etc. Are there really any good desserts that don't have sugar?
Total Sugar in All About The Cookies: Approx. 120 cups
A cup of brown sugar has around 825 calories and a cup of white sugar is about 770. Liquid sweeteners like honey and molasses are closer to 1000 a cup. So just to make things easy lets average it all out to about 800 calories per cup. That would give us about 96,000 calories from sugars and sweeteners. Your dentist is gonna love this.
And finally let's talk about eggs. With eggs you get calorie and fat so that is a double winner.
Total Eggs in All About The Cookies: Approx 166
A standard large egg has about 74.5 calories and 5 grams of fat. That calculates out to 12, 367 calories and 830 grams of fat. But you also get over 1000 grams of protein so that is good.
So just talking fat, sugar, and eggs we are up to 188,637 calories. If you figure on an average 2,000 calorie a day diet that would give you 94 days of calories. Which works out great since there are 90 recipes. Just make one recipe a day, eat the whole thing, and then you won't have to eat anything else! What a great deal.
If you want to talk fat we are looking at about 9900 grams of fat. At 65 grams a day it would take 156 days to eat everything in this book.
But keep in mind these numbers don't take in to account stuff like chocolate, pre-packaged cake mixes, marshmallows, peanut butter, and fruity pebbles. Yep, there is a recipe using fruity pebbles.
Don't worry though, this is all for a good cause!
If you know Missy you know she wouldn't put out a book like this just to make money for herself. Over the past few years Missy has helped raise well over $250,000 for breast cancer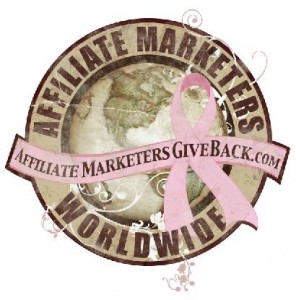 charities that support research, treatment, and awareness. Most of this money has been through the organization Affiliate Marketers Give Back.100% of the net profits of this book will be donated to the Avon Walk For Breast Cancer.
I have no idea how many of these great cookbook will sell but when it is all said and done it wouldn't surprise me if Missy was able to donate another $10,000-$20,000 and maybe a lot more. So order your copy of All About The Cookies today and help Missy help others.
And if you do decide to make and eat all the recipes in this cookbook maybe you could talk Missy into giving some money to the American Heart Association and the American Diabetes Association since you will probably need it.
Be sure to check out Missy Ward's site to follow her and all her great charity work. She is an inspiration to many people and her efforts have impacted more people than she realizes.