A few days ago a friend of mine published an ebook "The Cheap-Ass Guide to Online Content". As someone with many different sites I am always looking for some new ways to generate content and for the most part I hate paying for stuff so I figured this would be the perfect solution for me.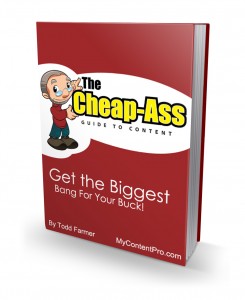 As Todd states it "we need a way to populate our sites with quality, unique content that is compelling and benefits our business — but we need low-cost solutions" and I couldn't agree more. Whether it is my own hand written content, aggregated content, outsourced content, "borrowed" content or anything else I am always needing more content for my sites. I just can't get enough! I even set a goal for myself this year of creating one new piece of content every day.
Anyway, on to the ebook:
Todd starts out explaining why we we need content, good reasons not to pay a lot for it, and some stuff that you really do need to spend some money on. Then he gets into the meat of the book which outlines about 20 different ways to get content for your site. And the best part about it is they are pretty much all free!
He covers each of these methods fairly in depth and gives some great links to some resources to help you out as you go about generating your own content. Topics like hiring outsourced writers, using guest posts and articles, and getting user generated content like comments and reviews are covered. But there are also some other less thought about forms of content like podcasts (BTW, if you want to learn more about podcasting check out http://www.qaqn.com/consulting/. Daniel does more podcasts than anyone I know and he will be sharing his knowledge with the rest of us), videos, images, even creating your own social network on your site.
Personally I think interactive content like videos, chats, social networks, and the like will become more and more valuable over the next few years. The more interaction you can get with your customers the more you will know them. The more you know them the easier it will be to sell them. Also I am pretty sure that Google is or will soon be taking things like podcasts and videos and automatically doing some sort of speech recognition on them and indexing the content as they would regular text.
All in all this is a great ebook if you are looking for new ways to add content to your site. So go visit My Content Pro and download your copy today. You will need to register for free on their site to get it but I would recommend that also. Todd Farmer and Lisa Picarille are both experts in their field and you will only get quality information from them.